Wednesday, March 8, 2017 - 21:00
Berlin Feminist Film Week 2017 – Opening: An ode to the WG
+ Preview of Berlin-TV-show Mixed Messages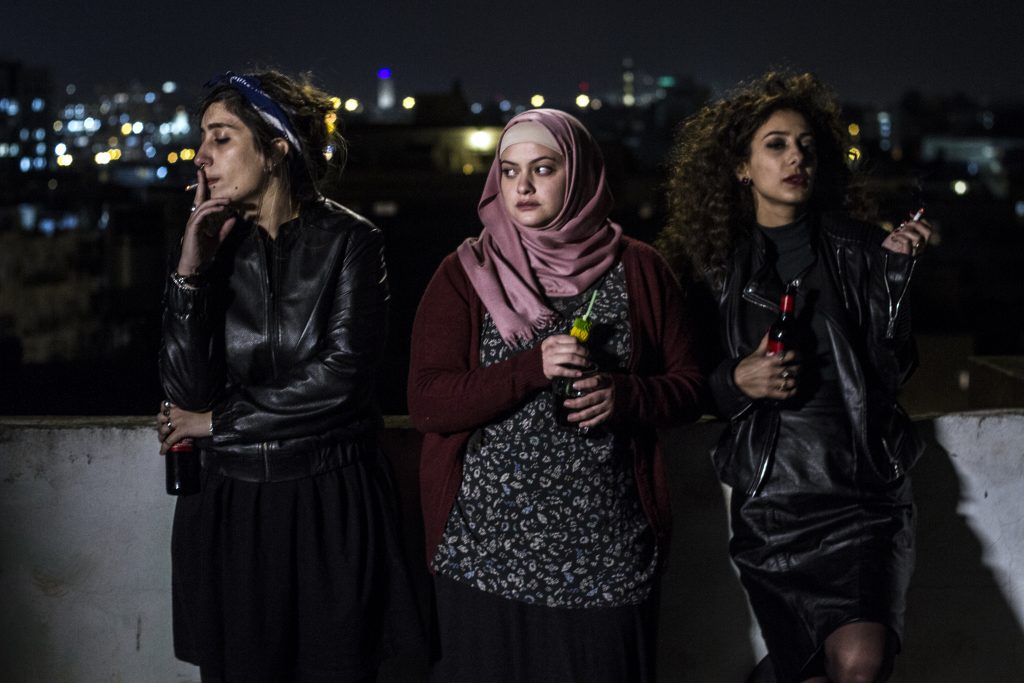 Q&A with Mixed Messages-creators Kanchi Wichmann and Nadja Krüger
Location & Time: Babylon Kino - 21:00
Tickets available online here
Event Information
The Berlin Feminist Film Week 2017 will open with the German premiere of Maysaloun Hamoud's debut feature film "In Between". Set against the backdrop of the tensions between Palestinians and Israelis in the Tel Aviv underground scene, In Between is a subtle feminist statement that deals with issues of gender, race, religion and sexuality.
Before the main film, we are happy to announce that we will show a special preview of two episodes of the web TV-series Mixed Messages set in the queer dating scene in Berlin. This hilarous TV show, with which many of you will be able to identify captures the Berlin scene perfectly and with lots of humour.
The creators behund mixed messages, Kanchi Wichmann and Nadja Krüger will be present for a Q&A and discussion after the screening.
We also have some goodie bags that we will raffle to some lucky winners filled with gifts from Fur, Other Nature alternativer Sexladen, Je Joue and GRRRL ZINE FAIR, our very own tote bag and this year's poster.
Mixed Messages / Kanchi Wichmann / Germany / 2017 
One year single in the Berlin queer scene – how hard can it be?
After breaking up with her polyamourous lover in a playground at night Ren embarks on an odyssey of dating confusion – will she ever learn to read the mixed messages of her various dates? Or is the only way forwards to join in and send out a few mixed messages of her own?
10 episodes each one a different date, each one a different dilemma – stay tuned! We will be screening two of our favorites episodes!
In Between / Maysaloun Hamoud / Israel/France / 2016 / 96 min 
Director Maysaloun Hamoud's In Between circles around three Palestinian women sharing an apartment in the vibrant heart of Tel Aviv find themselves being caught in the daily duality between hometown tradition and big city abandon, and the price they must pay for a lifestyle that seems obvious to many: the freedom to work, party, fuck, and choose.
If you're an Arab woman in Israel, you're never really considered Israeli enough but is part of a culture that isn't Palestinian enough either. Lalia (Mouna Hawa), Salma (Sana Jammelieh), and Nur (Shaden Kanboura) share an apartment in the vibrant heart of Tel Aviv. Lalia, a criminal lawyer with a wicked wit, loves to burn off her workday stress in the underground club scene. Salma, slightly more subdued, is a lesbian DJ and bartender. Nur is a younger, religious Muslim girl who moves into the apartment in order to study at the university.
Nur is both intrigued and intimidated by her two sophisticated roommates. When her conservative fiancé visits, he is horrified by her secular friends, entreating her to hasten their marriage, leave Tel Aviv, and assume her rightful role as a wife. She refuses, and his violent rebuttal leaves all of the women shaken. Salma and Lalia also face turmoil: Lalia has found love with a modern Muslim man whose acceptance proves less than unconditional, and Salma discovers that her Christian family in a northern Galilean village is not as liberal as they claim.
These three very different women find themselves doing the same balancing act between tradition and modernity, citizenship and culture, fealty and freedom. Caught between the rock of sexism and the hard place of racism, they live neither here nor there, and go through a bittersweet journey wherein there's no looking back, but the future is far from certain."
Location & Time: Babylon Kino - 21:00
Screening Duration: 120 min
Tickets available online here